Welcome to Trusted Carrier!
The following instructions will help you fill out the vCard, the trusted business card for transportation partners. If you do not have an account yet, you can register here.
After signing up, you will receive an email with a confirmation link. Simply follow the instructions in the email. After that you can edit your vCard. The following instructions and FAQ might be helpful. If you have any questions, just contact us! Good luck with filling out the vCard.
Now you should have confirmed your sign up (click on link in welcome email). Log in here.
In the following, two important topics will be covered:
Which information is required to obtain the TC status
and what use the other information has.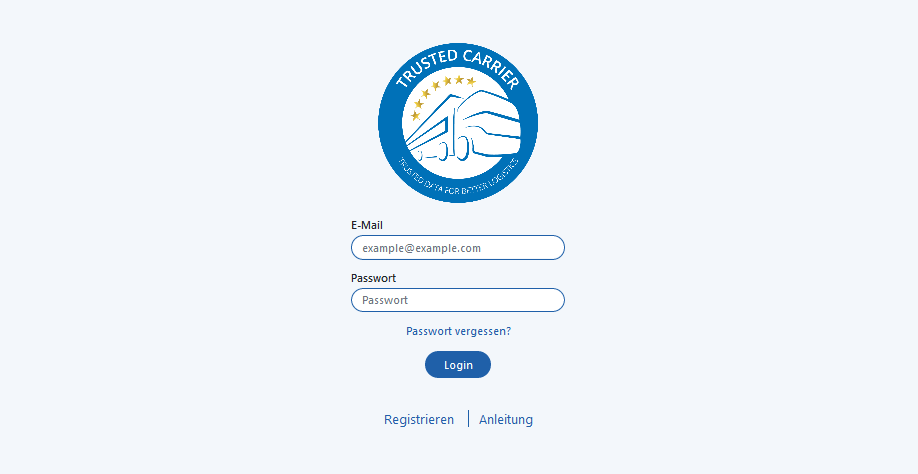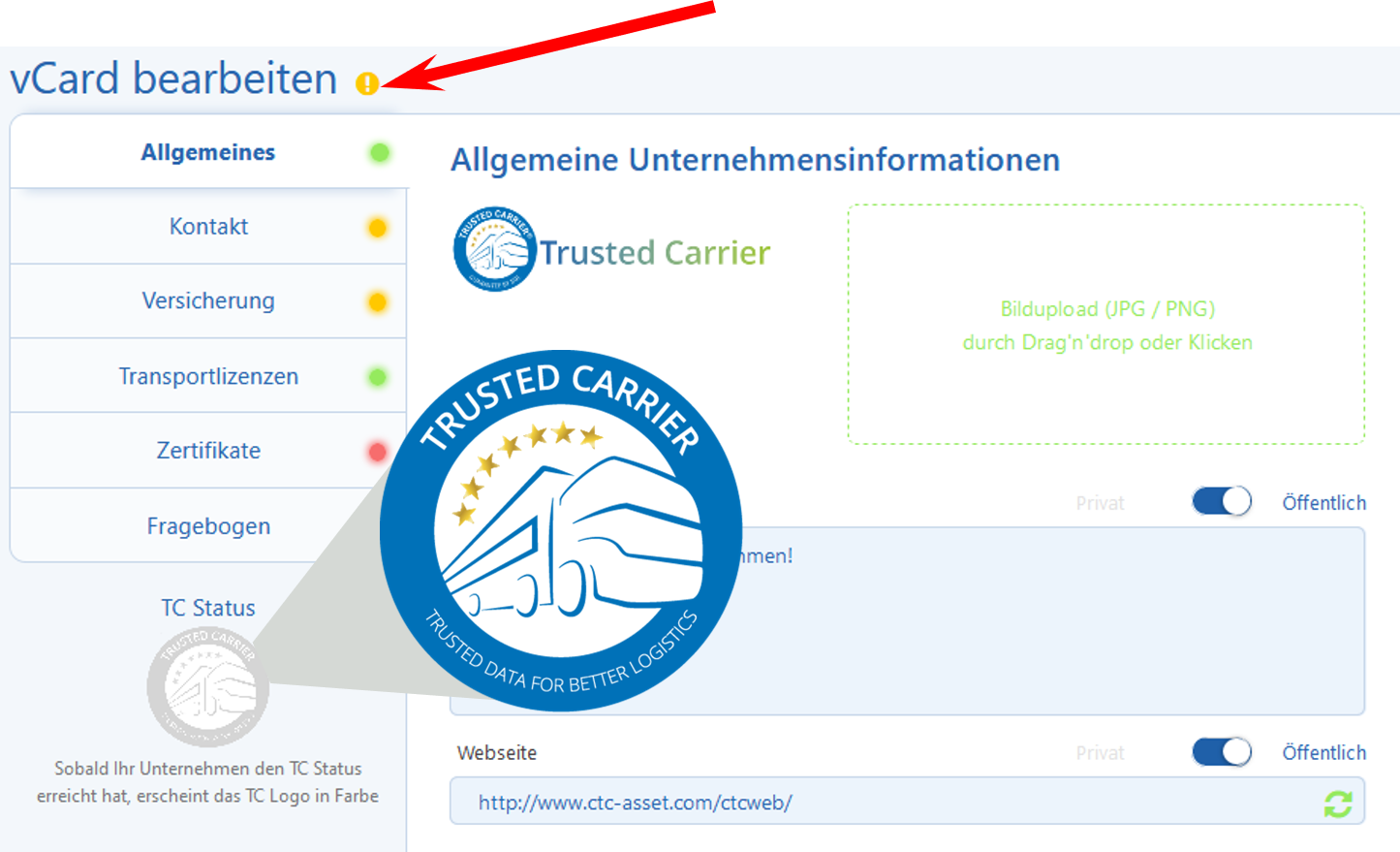 vCard is not only a virtual business card containing relevant information about your company, but the basis for a community where transparency prevails and verified participants can trust each other. Transport partners who have achieved TC status guarantee that they are trustworthy, reliable and competent. Once your company has achieved TC status, the TC logo will appear in color.
Click on the exclamation mark next to "Edit vCard" to view which information is (still) required.
#3 TC status – Required data
After clicking the exclamation mark (next to "Edit vCard"), you will see the list of required information, as well as which of these requirements have already been met. If a green checkmark appears next to all list items, your vCard meets all requirements.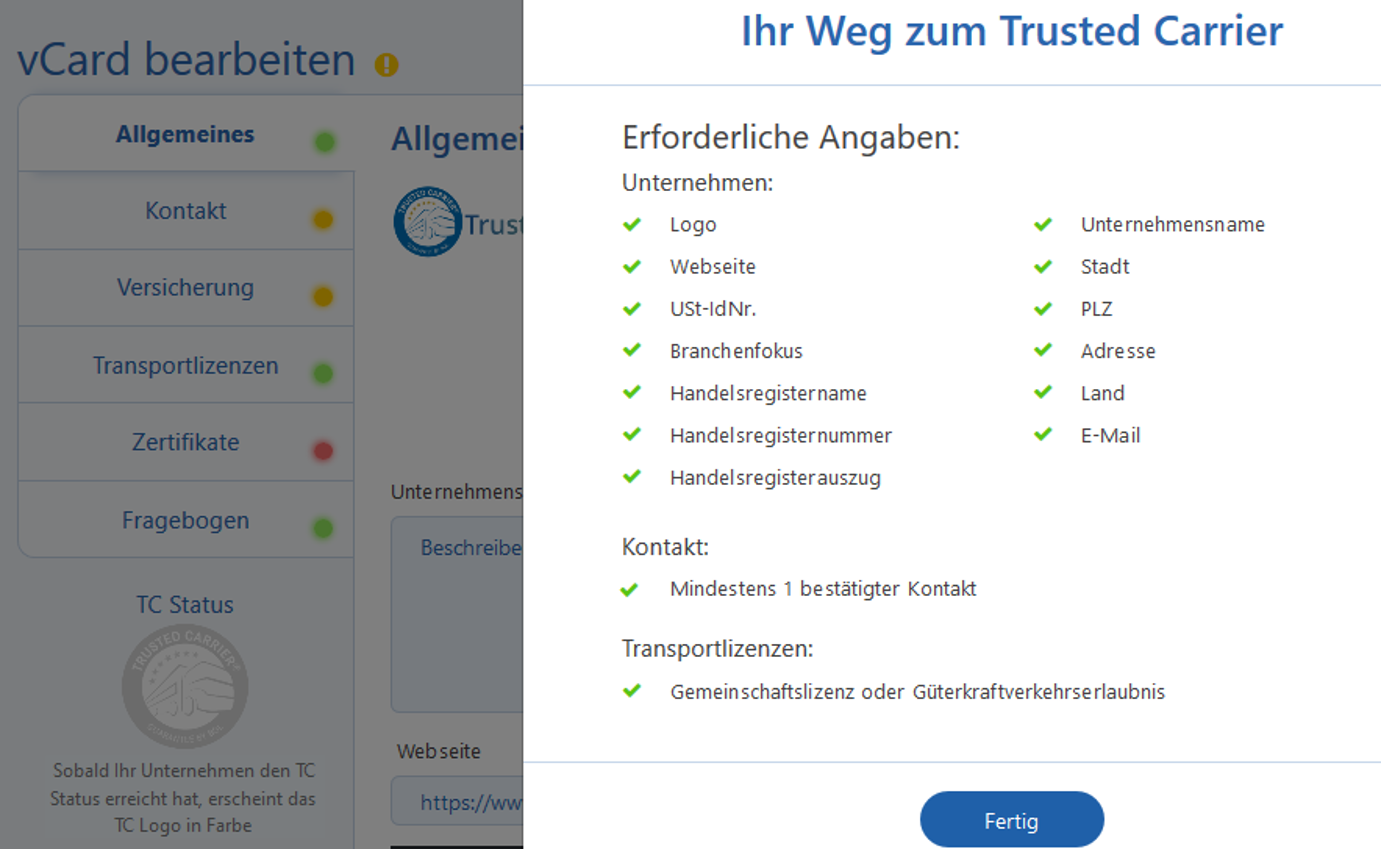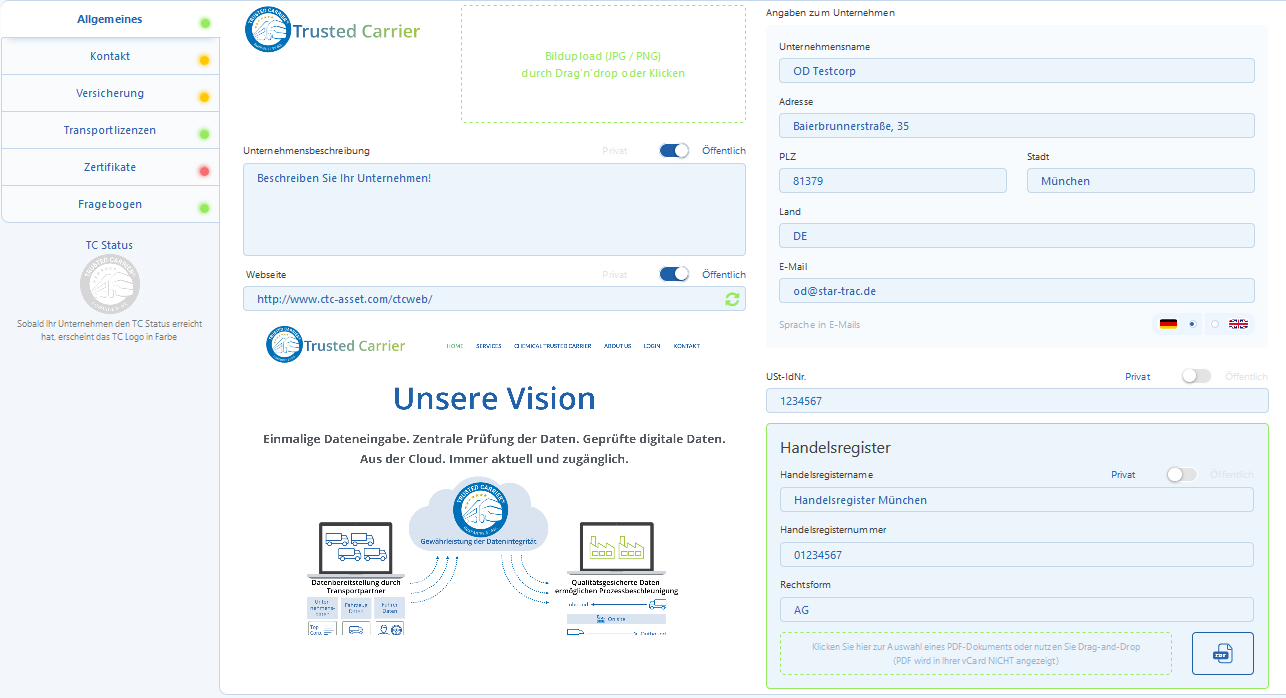 #3.1 TC status – Required data – Data about the company
The first category of required information is "Company". You can find and complete this in the "General" section.
In the left column you can upload a profile picture (e.g. your logo), write a meaningful description of your company and link your website. Please note that the website must be entered in the "https://www." format so that a preview of the website is possible.
In the right column only the area "Ust.-IdNr" can be filled in. It should be noted that a valid document, which can be used to prove the information, must be uploaded.
The area "Company details" has already been filled in during registration. The data can be changed in the admin area. To do this, go to Home (top left in the blue bar), then "Admin" or click on "TC vCard" in the top right-hand corner and then "Admin.
#3.2 TC status – Required data – Contact person
To obtain TC status, a contact person is also required. Details such as name, phone number, role and email address are required.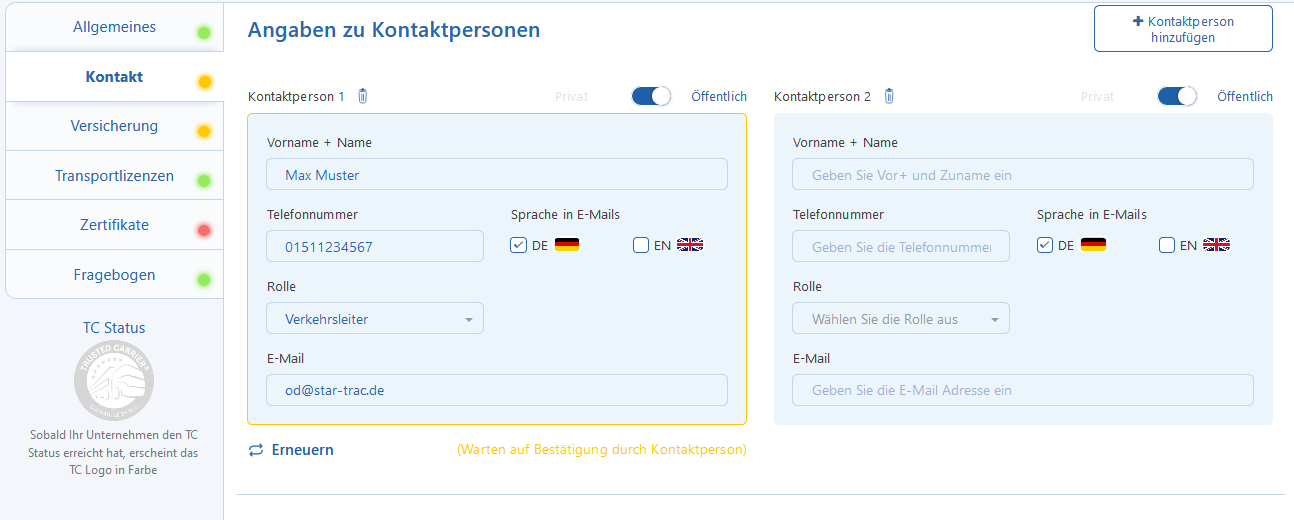 Please make sure in particular that you enter a valid and actively used e-mail address, as the contact person entered will receive an automatic e-mail with a confirmation link. Only when the contact person confirms that he or she is really available as a contact person, the green checkmark will appear in the list with the required information on the TC status.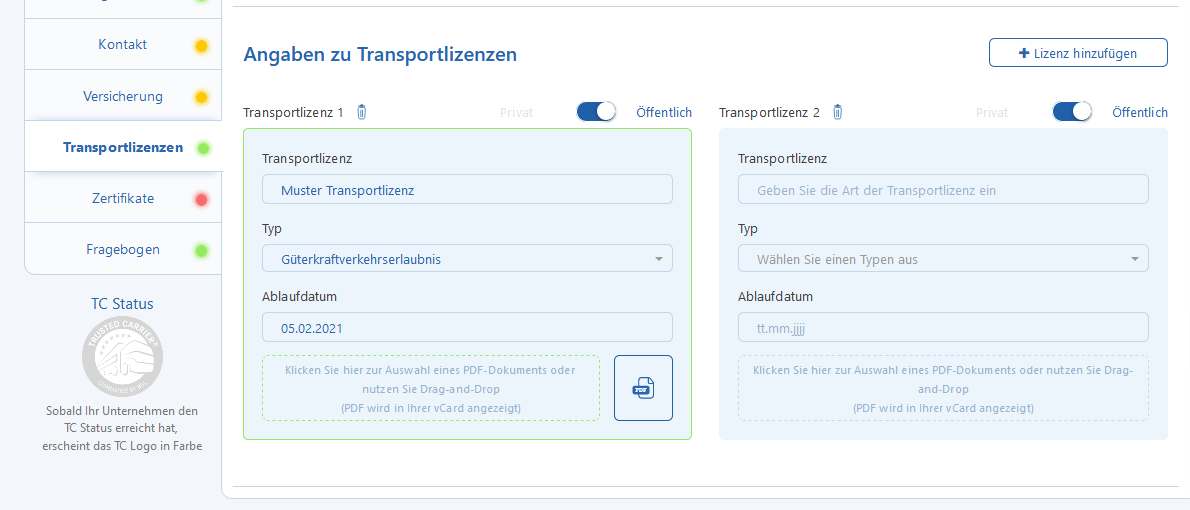 #3.3 TC status – Required data – Transport licenses
For TC status, a community license or road haulage permit is required. Please note that a valid document proving the details must be uploaded.
By clicking on "Add license" you can add up to 5 licenses.
#4 TC status – Verification of the data
After you have entered all the required information, click "Publish". Our team will check the accuracy of the information and validate your vCard.

If all the required information is correct, you will receive the TC status and with this you will become a trusted user of the vCard and, if applicable, of the other Trusted Carrier Module Asset and Wallet.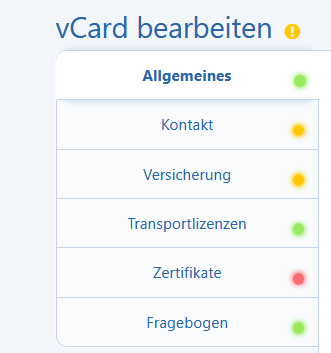 In addition to the information required for TC status, we recommend that you also provide details of your branches, insurances and certificates. Likewise, details on your industry focus, if given, may be useful.