Welcome to Trusted Carrier!
This tutorial will support you at filling out the vCard, the trustworthy business card for transport partners. If you don't have an account yet you can registrer here. 
After the registration you will receive an e-mail with a confirmation link. Follow the instructions in the e-mail.  Afterwards you will be able to edit your vCard.  For this purpose the following tutorial and FAQ might be helpful. If you have questions, feel free to contact us!
At this point the registration should be completed (click on the confirmation link in the welcome e-mail). Log in here.
Ih the following we will discuss about two main topics:
Which information is needed in order to receive the TC Status.
and which benefits additional information about your company has.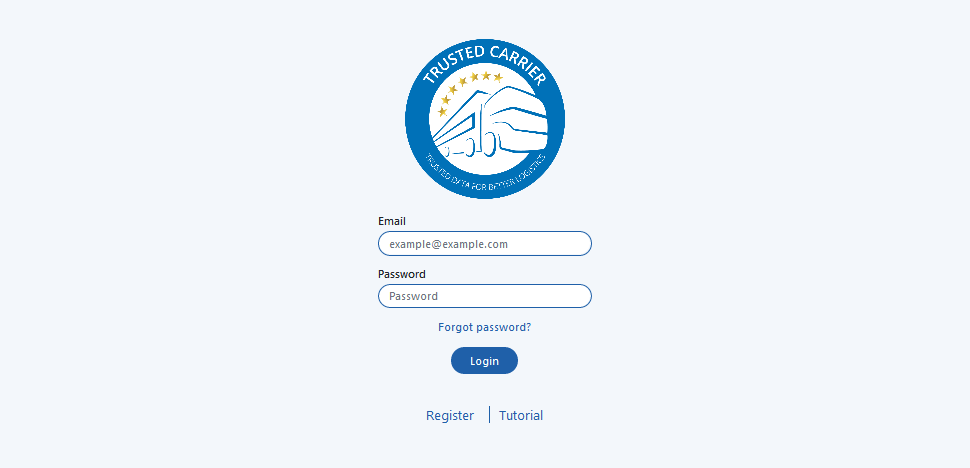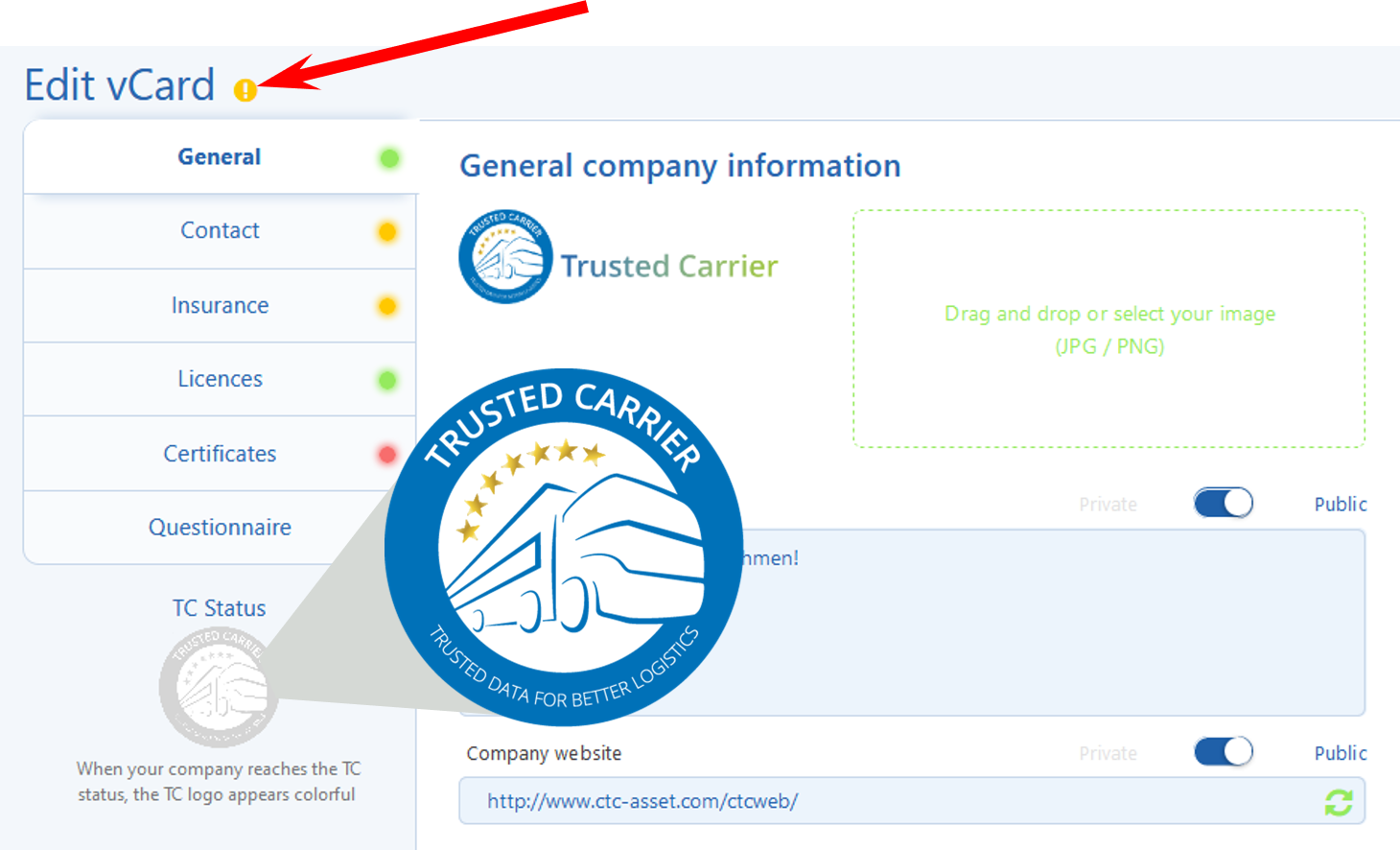 vCard is not only a virtual business card which contains relevant information about your company, but also the basis for a community in which transparecy prevails and verified participants can trust each other. Transport partners which have received the TC Status guarantee that they are trustworthy, reliable and competent. As soon as your company received the TC Status the logo will be displayed in color.
Click on the exclamation mark next to  "vCard bearbeiten", in order to see which pieces of information are (still) needed.
#3 TC Status – Required information
After clicking on the exclamation mark (next to "vCard bearbeiten") the list with the required information will be displayed. Which required information is already completed will also be displayed: as soon as there is a green mark next to all bullet points, your vCard fullfills the requirements.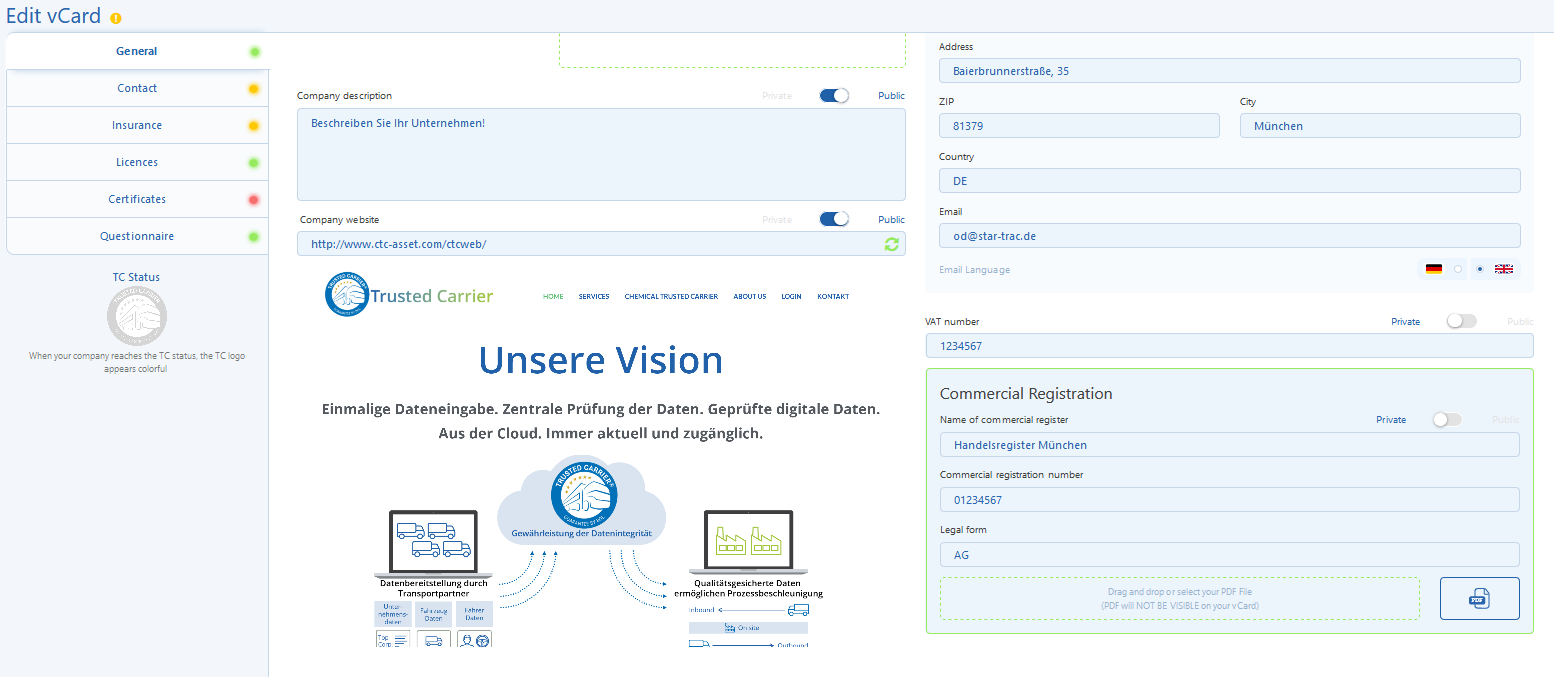 #3.1 TC Status – Required information – General company information
The first category of the required information is "Company". You can find and edit it in the section "General".  
In the left column you can upload a profile picture (e.g. your logo), write a very revealing description about your company as well as link your website. Please note that for the link of your website following format is required:  "https://www." Otherwise the website can't be displayedcorrectly in your vCar
In the right column only the section "VAT number" can be edited. Please note that therefore you have to upload a valid document which certifies the stated data.
The section "Company details" has already been filled out during the registration. The data can be edited in the admin section. For this purpose go to home (upper left corner) and then to Admin or click on TC vCard in the upper right corner and then select Admin. 
#3.2 TC Status – Erforderliche Angaben – Contact
Moreover, in order to receive the TC Status, a contact person is required. Information like name, phone number, role and e-mail adress are necessary.

Please give attention to the fact that you enter a valid and actively used e-mail address as the declared contact person will receive an automatical e-mail containing a confirmation link. Bitte achten Sie insbesondere darauf, dass Sie eine gültige und aktiv genutzte E-Mail-Adresse eintragen, da die eingetragene Kontaktperson eine automatische E-Mail mit einem Bestätigungslink erhalten wird. The green mark in the list with required information won't be displayed until the contact person confirms that he or she really is available as a contact person. 

#3.3 TC Status – Required information – Licences
For the TC Status a Community Licence or a Road Haulage Permit is required. Please note that you have to upload a valid document which certifies the stated data.
By clicking on "add licence" you can add up to 4 licences.
#4 TC Status – Verification of the stated information
After you have stated all required pieces of information click on "Publish". Our team will verify the accuracy of your data and will validate your vCard.

If all pieces of information are correct you will receive the TC Status and hereby you become a trustworthy user of  vCard as well as the other Trusted Carrier modules Asset and Wallet.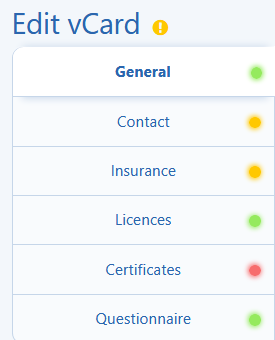 #5 Additional information
Besides the required information for the TC status we strongly recommend that you share information about your subsidiaries, insurances and certificates. Moreover details regarding your industry specialisation (if applicable) might be useful.